Join A Progressive Organization 190 members strong
The Western Iowa Tourism Region connects, develops and promotes the tourism industry in Western Iowa.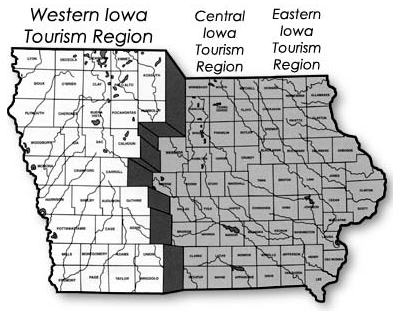 • Lead….Learn…..Share
• Focus your efforts on tourism development and sales.
• Increase visitor numbers/business.
• Learn from the Pros at bi-monthly workshops designed to help you build business.
• Network with your peers.
• Target New Customers.
• Create valuable partnerships
• Capitalize on advertising cooperatives that support your own programs and let you target new market areas inexpensively.
• Cross-sell & package your tourism products to create the critical mass travelers are looking for.
• Receive legislative updates that affect the tourism industry. Attend the annual Legislative Showcase.
• Connect with the State Tourism office and other tourism industry professionals throughout Iowa.
• Showcase your attraction/business on the Region's website http://visitwesterniowa.com/
• Stay informed about state-wide tourism meetings and conferences.
• Vote on projects and programs.